PMPC People's Policy Lab
The PMPC hosts policy workshops for organizers to learn the mechanics of our local city, county and metro governments; how to write, campaign for, pass and implement strong progressive policies; how to build strong coalitions and grassroots people power to get our ideas on the ballot or passed as ordinances; how to win the support of elected officials; and how to strategize and coordinate a multi-issue People's Platform that represents the needs and desires of the 99%.
On March 16, 2019, at the first People's Policy Lab, we featured case studies of winning policies in our area from the organizers most involved in them:
Portland Clean Energy Fund - Cary Watters (Native American Youth Family Center)
Fossil Fuel Infrastructure Ban - Nick Caleb, J.D. (Center for Sustainable Economy)
Relocation Ordinance - Jamey Duhamel (Policy Director, Office of City Commissioner Chloe Eudaly) and Margot Black (Co-chair, Portland Tenants United)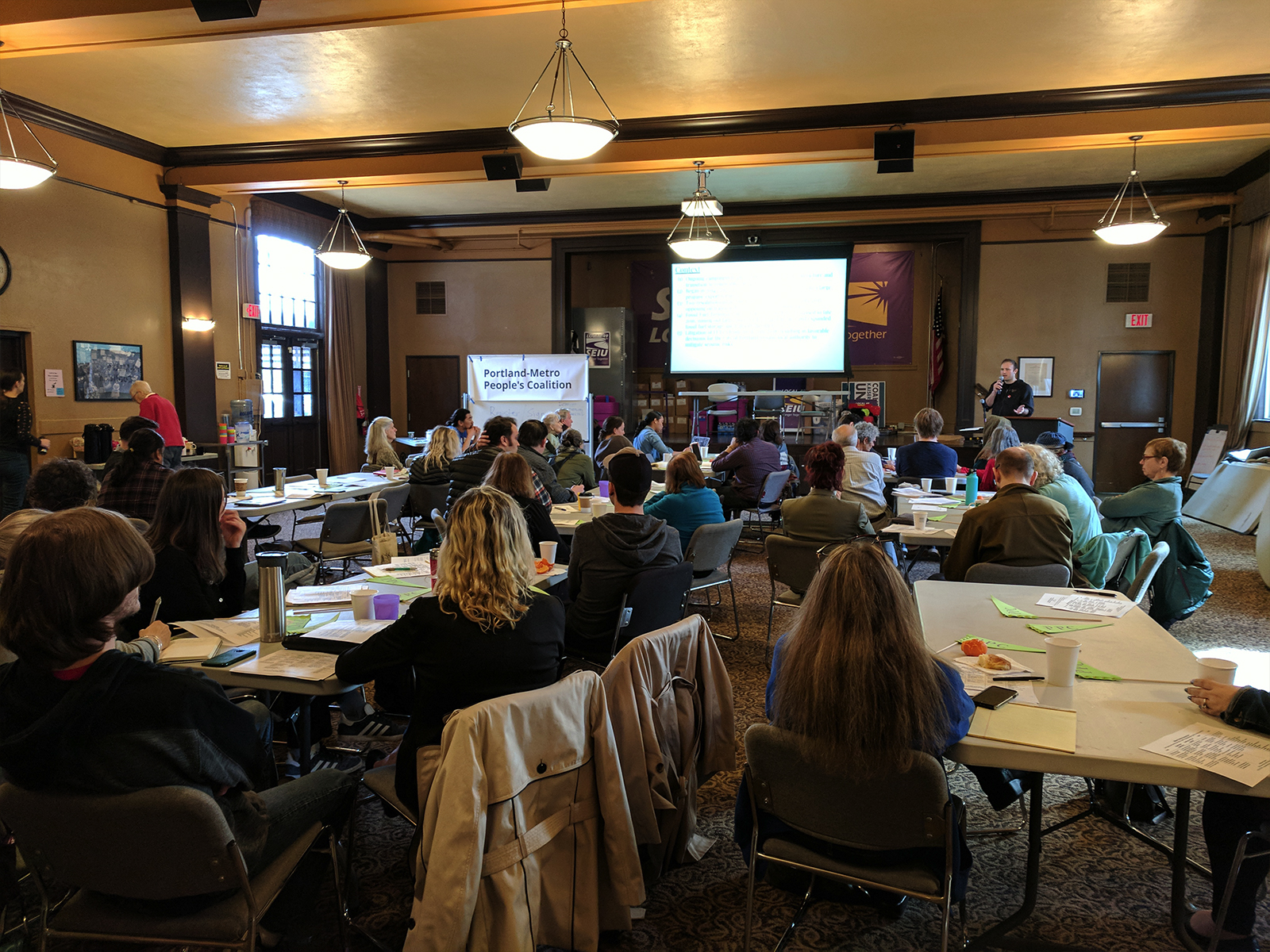 We then conducted a live workshop on one of the most difficult challenges we are facing: Ending police sweeps of our houseless neighbors. Using the Midwest Academy Chart, we began charting the Right 2 Rest policy campaign, led by Ibrahim Mubarek and Sandra Comstock (Right 2 Survive), Karissa Moden and Danielle Klock (Sisters of the Road) and Monica Beemer (WRAP). We were grateful to discover knowledge, experiences, intersections and support that might never have been identified otherwise from the 75 participants.
We also featured educational sections on powermapping and a presentation on navigating policy from inside City Hall from Matt McNally (Community Outreach Coordinator, Office of Commissioner Jo Ann Hardesty).